California wine is wine made in the U.S. state of California, it supplies a vast majority of the American wine production, along with New Mexico wine these American wine regions are longtime examples of viticulture within New World wine. Almost three quarters the size of France, California accounts for nearly 90 percent of production, the production of wine in California is one third larger than that of Australia. If California were a separate country, it would be the world's fourth largest wine producer.
So why not spend your next vacation tasting the best California wines in some of the most gorgeous vineyards of the world?
Here are some of the top 10 wineries in California
1.Raymond Vineyard
A look at Raymond Vineyards through the years is a historical journey of Napa Valley's deep viticulture and winemaking roots.
The Raymond family arrived in Napa Valley in 1933 and became connected to the Beringer family via marriage in 1936. Roy worked as winemaker for Beringer from 1933-1970, when in 1970, he and his two sons set out on their own with the 90-acre estate property in Rutherford where the winery is located. They released their first commercial wine under the Raymond Vineyards label in 1974 and never looked back. Like all great American family stories, the Raymonds put hard work and a pioneering spirit into their winery. Their dedication has helped make Raymond Vineyards a classic Napa Valley icon.
Raymond's 90-acre estate vineyards in Rutherford and St. Helena are certified organic and Biodynamic®, holistic farming methods that are hallmarks of Boisset family properties worldwide, including DeLoach Vineyards in Sonoma's Russian River Valley. In addition to CCOF and Demeter Biodynamic, the Raymond vineyards are also certified by Napa Green, Fish Friendly Farming and the California Sustainable Winegrowing Alliance.
Discover more about one of Raymond Vineyard's best wines: GENERATIONS 2017 By Raymond Vineyard
---
2. Dominus Estate
In the late 1960s, while attending the University of California at Davis, Christian Moueix fell in love with the Napa Valley and its wines. son of Jean-Pierre Moueix, the famed wine merchant and producer FROM Libourne, France, Moueix returned home in 1970 to manage the family vineyards, including chateaux Petrus, La Fleur-Petrus, Trotanoy in Pomerol and Magdelaine in Saint Emilion.
His love of Napa Valley lingered and, in 1981, he discovered the historic Napanook vineyard, a 124-acre site west of Yountville that had been the source of fruit for some of the finest Napa Valley wines of the 1940s and 1950s. In 1982, Moueix entered into a partnership to develop the vineyard and, in 1995, became its sole owner. He chose the name 'Dominus' or' Lord of the Estate' in Latin to underscore his longstanding commitment to stewardship of the land.
Discover more about one of Dominus Estate's best wines: NAPANOOK 2015 By Dominus Estate
---
3. SCARECROW
The scarecrow story begins in a patch of earth with a fabled past. The J.J. Cohn Estate, where Scarecrow grapes are born, borders what was once the legendary vineyard of Inglenook winemaker Gustave Niebaum, whose plantings blanketed more than 1,000 acres of the Napa Valley at the close of the 19th century.
John Daniel Jr. took the helm at Inglenook in 1939, determined to restore the label to pre-Prohibition standing and produce world-class Bordeaux-style wines. In 1945, Daniel convinced his neighbor, J.J. Cohn, to plant eighty acres of Cabernet vines on the 180-acre parcel Cohn had purchased a few years prior. The property served as a summer retreat for Cohn's wife and their family. He had no ambitions to become a winemaker himself, but Daniel promised to buy his grapes, so Cohn planted vines. The rest, as they say, is history.
Discover more about one of SCARECROW's best wines: 2017 Vintage By SCARECROW
---
4. Opus One
One wine of absolute quality
Opus One is the realized dream of two men: Baron Philippe de Rothschild of Chateau Mouton Rothschild in Bordeaux and Napa Valley vintner Robert Mondavi. Together, our founders set out to create a single wine dedicated to the pursuit of uncompromising quality. This singular mission shapes every vintage, today and for generations to come.
Great winemaking begins in the vineyard. When our founders created Opus One, they dreamed of a great wine that would transcend generations. Nearly four decades later, we continue to refine the complex subtleties of Opus One by honoring traditional methods and the continual pursuit of innovation and improvement.
Four meticulously hedged vineyard parcels form the Opus One estate. Here, the vineyard team cultivates five traditional Bordeaux grape varieties with experience, passion and dedication. This essential human touch brings forth the characteristics of each vintage through a balance of delicate coaxing and gentle restraint.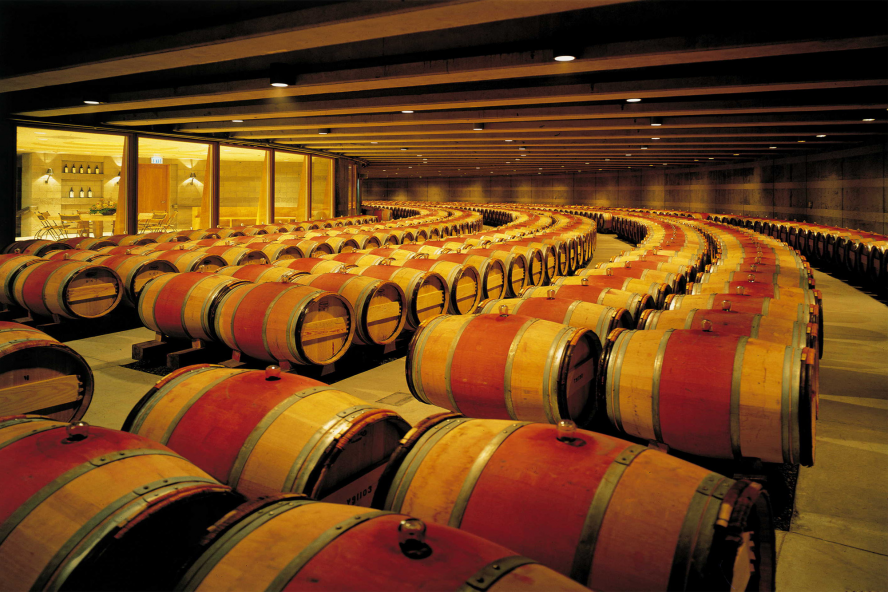 Discover more about one of Opus One's best wines: Opus One 2017
5. Ridge Vineyards
In 1962, Ridge made its first Monte Bello, and two years later its first zinfandel. Since that time, Ridge has championed single-vineyard winemaking, searching California for those rare and exceptional vineyards where climate, soil, and variety are ideally matched.
At Ridge, we call our approach to winemaking "pre-industrial." We believe that for anyone attempting to make fine wine, modern additives and industrial processing limit true quality. Our philosophy comes from the techniques used in the finest 19th-century California wineries and Bordeaux chateaux. In 1933, after thirteen years of Prohibition, very few winemakers who were trained in pre-Prohibition traditional techniques were young enough to return to their positions. Universities stepped in to fill the need for winemaker expertise, and began – year by year – to reinvent winemaking as an industrial process. We believe that these increasingly industrial methods interfere with the distinctive qualities of a fine vineyard and mask – rather than improve – the character of a wine.
Discover more about one of Ridge Vineyards' best wines: 2019 Mendocino Falanghina By Ridge Vineyards
6. Harlan Estate
Founded in 1984, Harlan Estate is a winegrowing estate in the western hills of Oakville, California – in the heart of the Napa Valley. Consisting of 240 acres (97 ha) of natural splendor set above the fabled Oakville benchlands, the property rises in elevation from 225 to 1,225 feet (68 to 374 m) above sea level.
Forty acres (17 ha) under vine, planted to cabernet sauvignon (70%), merlot (20%), cabernet franc (8%), and petit verdot (2%). All hillside siting, on both volcanic and sedimentary bedrock; a combination of terraced vineyards and closely spaced vines on spare soils over fractured rock; vertical trellis with shoot positioning, 360º of exposition.
"If we can enrich people's lives, and just maybe inspire them to do something beyond what they might otherwise have done, that brings us great satisfaction. Our purpose is to help our patrons to have an even more enjoyable and healthy life."
— H. William Harlan
Discover more about one of Harlan Estate's best wines: 2007 Vintage By Harlan Estate
7. Colgin
The Colgin winery, completed in 2002, is located at the northern end of IX Estate in the eastern hills above Oakville, California. The state-of-the-art winery provides an inspiring view of Lake Hennessey.
Colgin Cellars winery is located at IX ESTATE ("Number 9 Estate") high above Lake Hennessey, in the eastern hills above Oakville. The gravity fed winery is a remarkable marriage of classic design and contemporary technology. Here the graceful lines of a Mediterranean villa and the round, barrel-like signature of the Cellar integrate the winemaker's craft with its ecology, creating a noble place that is at once Californian in spirit and timeless in character. Set against a majestic view of Napa Valley and the surrounding intimacy of its vineyards, IX ESTATE is an inspiring venue of faultless terroir and meticulous technique, a worthy extension of the Colgin mystique. The winery is not open to the public.
Discover more about one of Colgin's best wines: IX ESTATE By Colgin
8. Joseph Phelps
Joseph Phelps Vineyards is a family-owned and operated wine estate with vineyards and wineries in Napa Valley and on the western Sonoma Coast. The winery was founded in 1973 by Joseph Phelps, a successful construction executive and entrepreneur whose early interest in wine led him to establish vineyards on a 670-acre former cattle ranch in Napa Valley. Over the next 42 years Joe became one of the most respected figures in the California wine industry, building Joseph Phelps Vineyards into a critically-acclaimed winery internationally known for its iconic wines and unwavering commitment to quality.
Since 1973 Joseph Phelps Vineyards has dedicated itself to producing wines of character, quality and significance. Our pioneering efforts with Rhone varietals led to California's earliest Syrah and Rhone-style blends, setting the stage for the movement that came to be known as the Rhone Rangers. Our late harvest Johannisberg Rieslings and more recently, Delice, made with estate-grown Scheurebe grapes in the style of German ice wine, have exemplified California's potential for dessert wines. On the western Sonoma Coast, our Pinot Noirs and Chardonnays are part of the movement bringing recognition and acclaim to this cool climate growing region.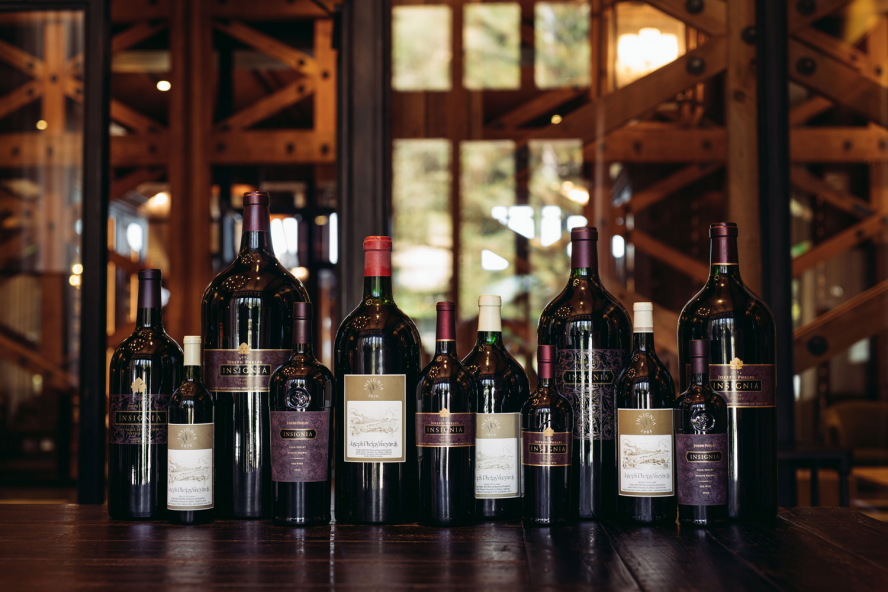 Discover more about one of Joseph Phelps Vineyards' best wines: Library Magnum 2003 By Joseph Phelps
9. Paul Hobbs
"The true character of a site is only revealed through the work and determination of tending each vineyard with meticulous care and vinifying with minimalist winemaking techniques that fully express the terroir."
– Paul Hobbs
A collection of acclaimed estate and growers' vineyards with pedigrees that allow them to stand on their own. Planted to high density vines and farmed by the block and row using sustainable practices to ensure impeccable fruit at harvest.
From some of the most sought after vineyards in Sonoma County and Napa Valley, we aim to express each site's origins with authenticity by working with the most compelling properties that share our core values and philosophy of farming.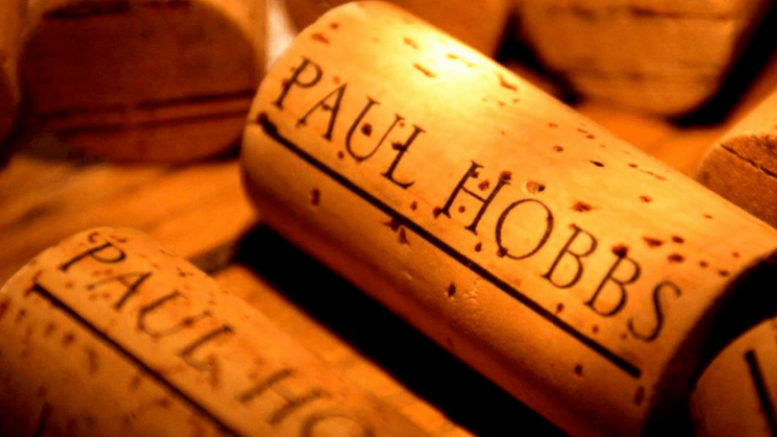 Discover more about one of Paul Hobbs's best wines: Chardonnay Russian River Valley By Paul Hobbs
10. Alma Rosa
Alma Rosa Winery was founded in 2005 by California wine industry pioneer Richard Sanford and his wife, Thekla. They named the winery after the 1839 Rancho Santa Rosa land grant that historically encompassed this region of Santa Barbara County. Richard Sanford was the first to plant Pinot Noir in the area in 1971 after detailed research of climate and geologic records. Richard went on to launch two wineries before creating Alma Rosa.
Situated on the north-facing slopes of the Santa Rosa Hills in Santa Barbara County, the Alma Rosa estate vineyard, El Jabali, was planted in 1983 and became the first certified organic vineyard in Santa Barbara County. Today, the Alma Rosa estate vineyards are 5 non-contiguous plantings of Pinot Noir and Chardonnay — along with small amounts of cool climate Syrah and Grenache — that are farmed using sustainable practices. Vines total 38 acres across our 628-acre estate that stretches from the valley floor to the top of the range.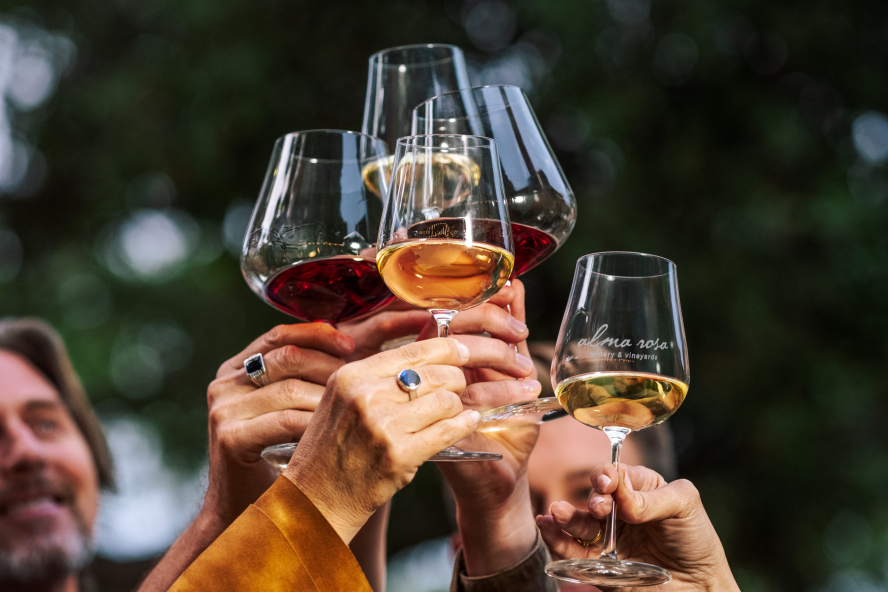 Discover more about one of Alma Rosa's best wines: 2018 CHARDONNAY, EL JABALI By Alma Rosa
---
THE WINE INTERNATIONAL ASSOCIATION EXPO