Sweet Wine
Sweet wines, sometimes called pudding wines in the United Kingdom, are sweet wines typically served with dessert.
There is no simple definition of a dessert wine. In the UK, a dessert wine is considered to be any sweet wine drunk with a meal, as opposed to the white fortified wines (fino and amontillado sherry) drunk before the meal and the red fortified wines (port and madeira) drunk after it. Thus, most fortified wines are regarded as distinct from dessert wines, but some of the less-strong fortified white wines, such as Pedro Ximénez sherry and Muscat de Beaumes-de-Venise, are regarded as honorary dessert wines.
In the United States, by contrast, a dessert wine is legally defined as any wine over 14% alcohol by volume, which includes all fortified wines—and is taxed more highly as a result. This dates back to when the US wine industry only made dessert wines by fortification, but such a classification is outdated now that modern yeast and viticulture can produce dry wines over 15% without fortification (and German dessert wines can contain half that amount of alcohol).
Natural Sweetness
In the absence of other techniques, makers of dessert wine have to produce their sugar in the vineyard. Some grape varieties, such as Muscat, Ortega and Huxelrebe, naturally produce much more sugar than others. Environmental conditions have a big effect on ultimate sugar levels; the vigneron can help by leaving the grapes on the vine until they are fully ripe, and by green harvesting and pruning to expose the young grapes to the sun. Green harvesting reduces the number of bunches on a vine early in the summer, so that the sugar production of the leaves is divided between fewer bunches.
While the vigneron cannot control the sun, a sunny year regulates sugar levels. The semi-sweet Auslese wines in the German wine classification are probably the best example of this approach; most modern winemakers perceive that their customers want either fully dry or 'properly' sweet dessert wines, so 'leave it to nature' is currently out of fashion. But most of the Muscats of ancient times were probably made this way, including the famous Constantia of South Africa.
Serving
A general rule is that the wine should be sweeter than the food it is served with—a perfectly ripe peach has been described as the ideal partner for many dessert wines, whereas it makes sense not to drink wine at all with many chocolates and toffee-based dishes. Red dessert wines like Recioto della Valpolicella and fortified wines like the vin doux naturel Muscats are the best matches for such difficult-to-pair desserts.
Alternatively, the wine itself can be a dessert, but bakery sweets can make a good match, particularly with a little bitterness like biscuits that are dunked in Vin Santo. A development of this matching of contrasts is a rich savory dish like the foie gras that is a traditional partner to Sauternes.
White sweet wines are generally served somewhat chilled but can be easily served too cold. Red dessert wines are served at room temperature or slightly chilled.

DESSERT WINE STYLES
Rich and Warming Dessert Wines
Caramelized and Sticky Dessert Wines
Lush and Balanced Dessert Wines
1. Rich and Warming Dessert Wines
High-alcohol, age-worthy red wines with a dried fruit core. These fortified wines, the most famous example of which is Port, are reminiscent of rich fruit compote with a touch of chocolate and prune.
Characteristics
Prune
Plum
Chocolate
Spice
Hazelnut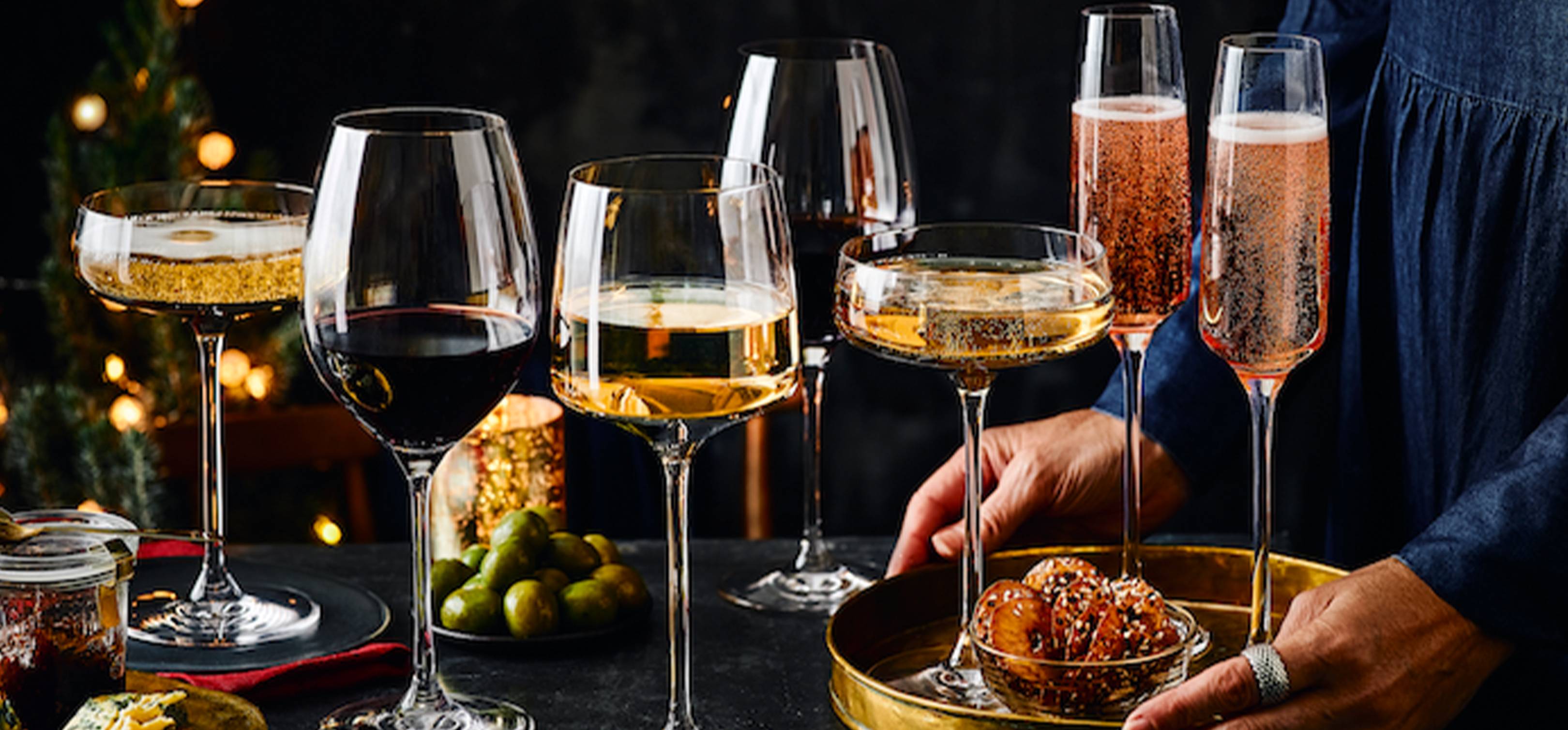 2. Caramelized and Sticky Dessert Wines
Butterscotch and nuts, with a hint of spice.
Characteristics
Walnut
Almond
Hazelnut
Caramel
Toffee
Vanilla
Honey
3. Lush and Balanced Dessert Wines
Long-lived wines balancing fruit and acidity.
Characteristics
Honey
Botrytis
Apricot
Stonefruit
Peach
Marmalade
Spice
Source: Wikipedia