Wineries In Cape Town
South African wine has a history dating back to 1659, with the first bottle produced in Cape Town by its founder Jan van Riebeeck. Access to international markets led to new investment in the South African wine market. Production is concentrated around Cape Town, with major vineyard and production centres at Constantia, Paarl, Stellenbosch and Worcester. There are about 60 appellations within the Wine of Origin (WO) system, which was implemented in 1973 with a hierarchy of designated production regions, districts and wards. WO wines must only contain grapes from the specific area of origin. "Single vineyard" wines must come from a defined area of less than 5 hectares. An "Estate Wine" can come from adjacent farms if they are farmed together and wine is produced on site. A ward is an area with a distinctive soil type or climate and is roughly equivalent to a European appellation.

Discover more South African wine on the best Wine online Expo!
1. BOSCHENDAL
Boschenda is nestled in one of the most picturesque valleys in the Cape wine lands, one of South Africas original wine farms eagerly awaits your arrival. With a wine making tradition spanning over 300 years, Boschendal Wine Estate offers a veritable treat for wine lovers everywhere. This gracious national treasure is a familiar favourite to many and a glorious discovery for countless others.
Boschendal, with its backdrop of sweeping mountains, deep ravines and imposing peaks are renowned throughout the world for its beauty. The estate is situated in the Cape Floral Kingdom, the smallest yet richest plant kingdom on earth with an astounding biodiversity of plant and animal life.
Discover more South African wine on the best Wine online Expo!
---
2.Babylonstoren
In front of the impressive scenery of the Simonsberg and the Franschhoek Mountains, the Babylonstoren winery stretches out. Its origins date back to 1692, when Pieter van der Byl planted the first vineyards on the farm and made irrigation possible by converting the canals. Some of these old structures have survived to this day, as has the Cape Dutch architecture of the Manor House or the former cowshed where the Babel Restaurant is located, because a few years ago the new owners Koos Bekker and his wife Karen Roos restored the winery – and the historic fruit and wine farm took a turn. Today Babylonstoren is one of the best preserved Cape Dutch-style wineries.
Discover more South African wine on the best Wine online Expo!
---
3. Jordan Wines Stellenbosch
Gary and Kathy Jordan have been making world-class wines since 1993 on a farm with a history going back over 300 years. He's a geologist, she's an economist – together this husband and wife team is a phenomenon. Gary's parents, Ted and Sheelagh, bought the now 164-hectare Stellenbosch property in 1982, and embarked on an extensive replanting programme, specializing in classic varieties suited to the different soils and slopes.
From the Jordan hillside vineyards, one has spectacular panoramic views of Table Mountain, False Bay and Stellenbosch. Gary and Kathy worked internationally for two years, refining their high-energy instincts with practical experience. They returned home to build a cellar in 1992.
The following year, the vines were judged ready for making wines that would carry the Jordan name. From that first year, it was obvious that a new star had been added to the winemaking firmament. Continuing success has enlarged the team, with the focus on producing fiercely individual wines that combine the fruity accessibility of the New World with the classic elegance of the old.
Discover more South African wine on the best Wine online Expo!
---
4. Waterkloof
In 1993 Paul Boutinot commenced his search for a vineyard site with the potential to produce truly fine wine with a defining sense of origin. The classic areas, capable of growing naturally balanced grapes such as the Cote d'Or, Chablis, Paulliac, Barolo, etc. were either unavailable or unattainable (rich men's toys), so he had to find a new classic. It took ten years to narrow the search down to a small area on the south-facing slopes of the Schapenberg, overlooking False Bay in the Cape. As soon as he was led up a steep ravine opening out into a hidden amphitheatre of potential, all his experience and intuition told him: THIS IS IT! Waterkloof was born, and the hard work began.
Discover more South African wine on the best Wine online Expo!
5. Beau Constantia
Beau Constantia is a boutique wine farm situated at the top of Constantia Nek overlooking False Bay. Vines are planted to an elevation of 350 metres above sea-level on some of the steepest agricultural slopes in the Cape. These lovingly nurtured vines are spoilt with panoramic views of the Stellenbosch and Helderberg Mountain ranges and over False Bay as far as Hangklip.
Development of vineyards on the steep slopes took a lot of patience and effort, but today the farm prides itself with 11.47 hectares under vine. The cultivated varieties include Viognier, Sauvignon Blanc, Semillon, Cabernet Franc, Merlot, Cabernet Sauvignon, Malbec, Shiraz and Petit Verdot.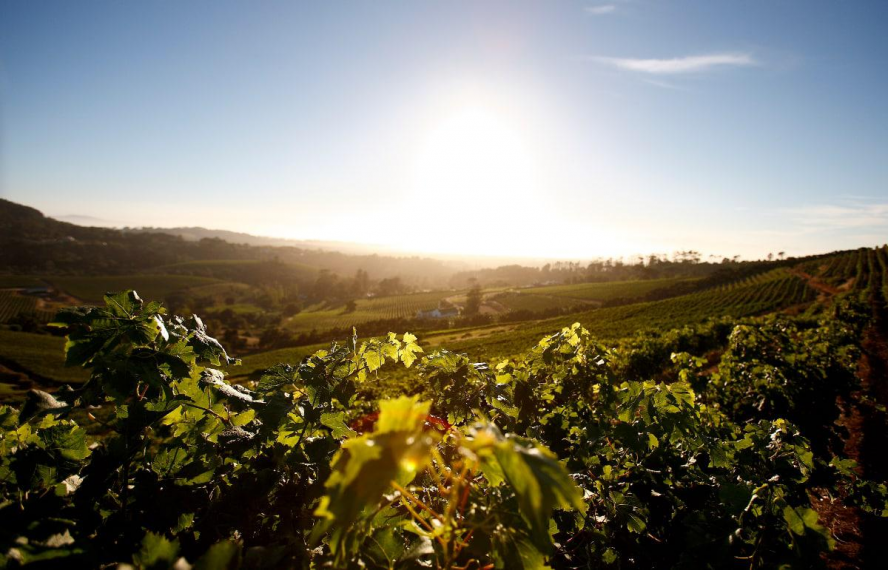 THE WINE INTERNATIONAL ASSOCIATION EXPO