The Concours General Agricole Paris (CGA) is a French agricultural exhibition sponsored and organised by the ministries of agriculture, food, fisheries and rural affairs of France. It is co-owned by the Centre Nationale d'Expositions, the national exhibition center of Paris, which hosts it every year. 
For its impartiality and rigorous judging procedures, the CGA is highly regarded.This is helped by its long-running popularity and the fact that it is managed by the state. The event first took shape for the French nation as a generalist agriculture show in 1860. Until 1964, when wars and other national crises survived, it expanded steadily until it was split into three different competitions: one for animals, one for produce, and one for wine. Le Concours des Vins, the latter, has risen to a substantial size now.
More than 15,000 wine samples are sent each year by approximately 4000 of France's winemakers to the CGA's judging panels. Nearly 3000 experts (one of the largest tasting panels of any wine competition in the world) who award upwards of 3500 medals per year are testing and assessing the wines.Wines from around the mainland of France are tested, and each year a modest contingent from Corsica is also present. Most wines come from Bordeaux, Burgundy, Champagne and Languedoc-Roussillon, but there is also a strong representation of less-famous regions.Nevertheless, the names of the most prominent wine producers in France, who seldom require confirmation from public wine shows, are clearly absent from the judging tables of the CGA.
The CGA's organizers also launched a web-based distribution portal for the promotion and online sales of its medal-winning goods to keep up with new technologies and customer preferences.For more information about this and the competition, visit https://www.concours-general-agricole.fr.
1. 
Chateau Myon de l'Enclos, Moulis-en-Medoc, France
Beautiful dark hue with purple-blue tints. Fairly refined, pleasant nose with fruity, mineral and oak accents. The attack is dense and tightly-wound with polished tannins. The finish still displays a degree of firmness. A wine all-set for the future.
Year: 2012
Awarded medal: Gold
Price: 2$
---
2. Chateau de Ribebon, Bordeaux Superieur, France
Poised and polished, Château de Ribebon is a blend of 60% Merlot with 20% Cabernet Franc and 20% Cabernet Sauvignon from old vines ranging in age from 60 to 100 years—all grown on a gravelly outcrop overlooking the Dordogne River. Aromas of plums, black currants, sweet tobacco, and menthol waft from the glass. Pillowy tannins lend structure to this well made Bordeaux Supérior, followed by a finish of dried herbs and cinnamon stick finish.
Year: 2013
Awarded medal: Gold
Price: 4$
---
3. Paul Mas Rose de Syrah, IGP Pays d'Oc, France
Region: IGP Pays d'Oc Grape Variety: 100% Shiraz ABV: 12.5% Stopper: Cork Full bodied rose wine. Clear pink in colour, on the nose, aromas of strawberry and red cherry with notes of herbs. Light tannins. Medium acidity. Crisp and dry rose wine in style. On the palate, fresh, youthful, dry and crispy, approachable, delivers red berries fruits character, soft, hint of flowers, touch of minerality. It has arefereshing finish. Pairs with grilled salmon. Drinking temperature: 6-8 °C.
Year: 2008
Awarded medal: Gold
Price: 4$
---
 4. Chateau Bellevue Claribes, Bordeaux, France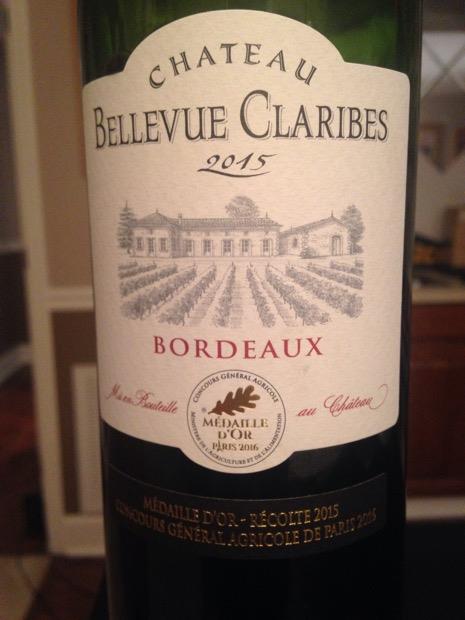 Deep garnet color, ruby reflections. Pleasant nose blending ripe red fruits and toasted notes. The mouth is supple, very concentrated, with exuberant nose aromas and polished tannins. The whole is expressive and balanced. To be drunk with a rib steak.
Year: 2015
Awarded medal: Gold
Price: 6$
---
5. 
Chateau Les Paques Blanc, Blaye Cotes de Bordeaux, France

Classic nose: citrus and white flowers omnipresent. In mouth, lemon, grapefruit. The acidity is nice and brings freshness and length to this wine. Not the most complex wine, but very pleasant and pleasant. After a short maceration, this sauvignon is vinified in an airless environment to preserve its explosion of fruit and its pale yellow color. This wine is matured on fine lees for four months with regular stirring to bring fatness and roundness.
Year: 2015
Awarded medal: Gold
Price: 6$
6. 

Gilbert Chon Chateau de la Jousseliniere Muscadet Sevre-et-Maine Sur Lie, France
This cuvée is made from a blend of musts of various origins. It focuses on fruit and freshness. Light, well-balanced between sweetness and acidity, it would be perfect as an aperitif with shrimp fritters. This wine which mixes white fruits and vanilla notes, reveals a good balance.
Year: 2012
Awarded medal: Gold
Price: 6$
7. 
Castelmaure Corbieres Rouge, France
It is a voluptuous wine that combines power and delicacy, a strong personality with a woody character, with fatness, volume and remarkable tannins. Announced by a bouquet of undergrowth and strawberry jam, it reveals a round and ample body.
Year: 2010
Awarded medal: Gold
Price: 6$
8. 
Chateau Paradis Coteaux d'Aix-en-Provence Rouge, France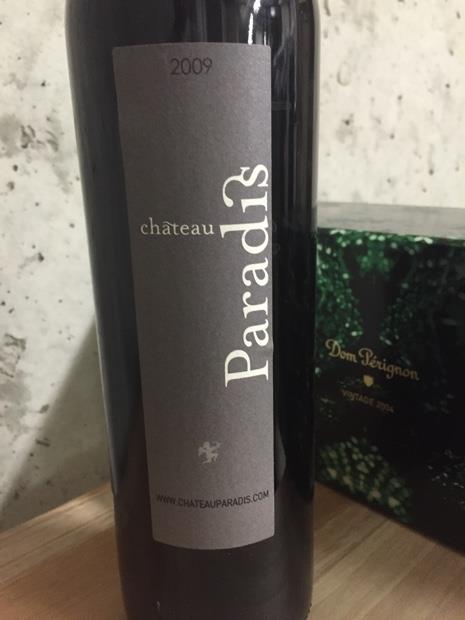 It is a very dark red, almost black, which delivers a bouquet still on the reserve where we perceive red fruits, spices and a well melted toasted woody. One finds all this in a powerful, fat, ample and long palate. Nothing dominates, but everything is read, concludes one taster. All that remains is to wait patiently, for at least five years, for this wine to open up fully.
Year: 2009
Awarded medal: Gold
Price: 6$
9. 
Cave Saint Marc Ventoux 'Saint Marc', France
An excellent taste for this red Ventoux from the cellar St Marc. The nose is quite discreet but already complex with notes of cherries, red fruits and spices. The mouth is surprising with an explosion of red and black fruits. Confirmation for the candied cherry with notes of coffee, it is ample, generous, powerful and elegant at the same time. Beautiful extraction. Very melted tannins. To drink on the young. … it's delicious.
Year: 2005
Awarded medal: Gold
Price: 6$
10. 
Chateau Les Moutins, France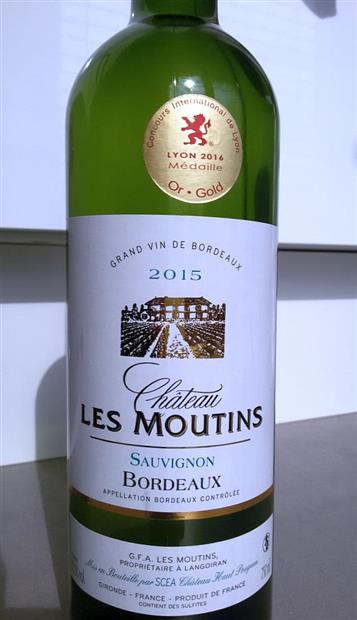 Belonging to the beautiful group of crus constituted by the Darriet family on both sides of the Garonne, this vineyard offers a 2015 with a fine and elegant bouquet, where citrus fruits are harmoniously combined with passion fruit. Supple and fat on the attack, the well-balanced and well-structured palate then evolves silky, without heaviness, before leading to a pleasant finish which gives pride of place to floral notes.
Year: 2015
Awarded medal: Gold
Price: 7$